Class Description
Students will create interactive stories, games, and animations using Scratch, a visual, blocks-based, creative programming environment.
Collaboration is encouraged, creativity is nurtured, and problems are solved as students learn the principles of computer science and critical thinking in this exciting and engaging class.
We use the friendly, block-based programming paradigm created by the Scratch team at MIT, to work our way through various projects from simple animations to more complicated stories and games.
Scratch helps young people learn to think creatively, reason systematically, and work collaboratively — essential skills for life in the 21st century.
The ability to code computer programs is an important part of literacy in today's society. When people learn to code in Scratch, they learn important strategies for solving problems, designing projects, and communicating ideas.
Prerequisites
None! Although knowing their way around a computer is helpful (we use Windows laptops).
No prior programming experience or knowledge is required, or expected - this is a great place to start!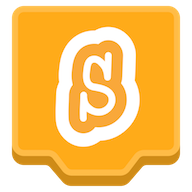 Software
Students will be taught how to code with Scratch, a free application from the Lifelong Kindergarten group at MIT. It can be used online (requires Flash), or downloaded for offline use (preferred).
Computers
Students are encouraged to bring their own laptops to class if they have one (Chromebooks not recommended - please download and install Srcatch beforehand).
Students are also welcome to use one of our laptops if they are unable to bring their own. Please bring a USB Flash Drive to save your creations, and to continue work at home.