How to build asteroids: Teens learn coding in Tarrytown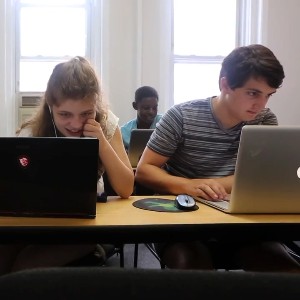 Article by Michael P. McKinney/The Journal News, Video by Tania Savayan/The Journal News. Published 11:03 a.m. ET Aug. 11, 2017
TARRYTOWN - Seven computer coders are mastering how to build asteroids, make them float and spin across laptop screens and, perhaps, see them pulverized to pieces.
The coders-in-training are teenagers. And inside a stately brick building in this Hudson River village, these mostly high schoolers from around Westchester County have been immersed in a course this summer to use the building blocks of coding at Think Space Studio LLC, at 19 N. Broadway.
On a recent morning there, it's easy to see how times have changed. Where computer games were once something young people only played, now they're something they can program too. And in an age when technology jobs are in demand and lucrative, when the youngest children take to electronic devices intuitively, it may be wise to be a kid who codes.